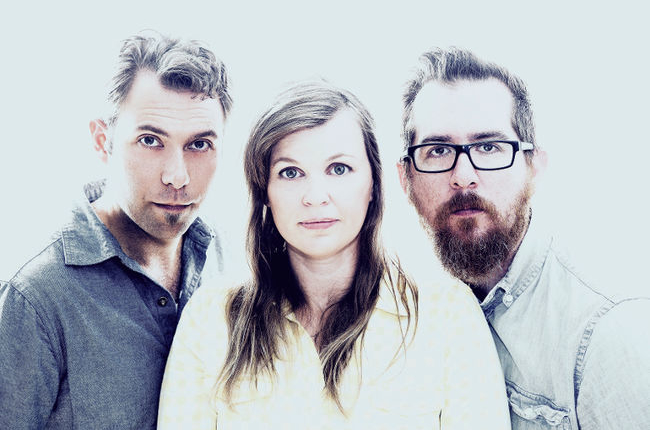 From British Columbia to Newfoundland, this year's Canterbury Folk Festival celebrates Canadian performers and music in Ingersoll from July 7 to 9
By Heather Rivers, Woodstock Sentinel-Review
It's not a one-time gig for The Once who will be returning to Ingersoll's Canterbury Folk Festival for the second time to close the festival at 3:15 p.m. on Sunday, July 9.
The award-winning and Juno-nominated indie trio from Newfoundland is looking forward to performing at the free festival that takes place in Ingersoll from Friday, July 7 to Sunday, July 9.
In Newfoundland lingo, The Once means "imminently but not necessarily so."
Formed 10 years ago, The Once's first album was recorded after a stranger at a show was so impressed he offered them $5,000 to record an album.
Known for their haunting interpretations of traditional music, the folk group's latest EP entitled 'We Win Some We Lose' incorporates a new artistic voice.
"I think we finally know what The Once sounds like," explained Phil Churchill. "And with that knowledge comes a freedom we would not let ourselves have before."
This year, in honour of Canada 150, the Canterbury Folk Festival features performers from every province across the nation.
"From British Columbia to Newfoundland, every province is represented," explained Brenda Boswell, head of marketing and promotions for the festival. "We have flags from all of the provinces which will be incorporated into the parade led by the Ingersoll Pipe Band (at 4 p.m. Saturday) and prominently displayed around the main stage."
The festival, she said, is attracting a lot of out-of-town attention due to the high "caliber of the performers."
Events begin with a Swine and Wine Pig Roast at 5 p.m. on Friday, followed by an evening of musical entertainment including Bob Evans, Glenn McFarlane, James Keeleghan and topped off with a performance by Lennie Gallant at 10 p.m.
After breakfast in the park, children's activities and a day full of workshops, Saturday evening performances include Denal Soares, Dan Stacey and the Black Swans, Tia McGraff, Valdy and Gary Fjellgaard, Ian Thomas and festival favorite Pavlo.
Special guests Aaron Bell Ojibwa Story Teller and the White Pine dancers will perform Saturday at 4:30 p.m.
"We're really pleased to have them back especially since its Canada 150," Boswell said. "They will represent Canada's aboriginal culture."
Sunday's performances include Hearts of Praise, Ted Comiskey and Jim Gonder, Coig, RPR and Red Moon Road.
Visit www.canterburyfolkfestival.on.ca to view the entire three-day schedule of events.